By Francesco Piccat
"Il Ferro e il Fuoco", literally "iron and fire", is the new restaurant of the Voi Donna Camilla Savelli Hotel in Rome.  This hotel is a 17th-century former convent in which you can still see the works of the famous baroque artist Borromini.  Located between the Gianicolo hill and Trastevere neighbourhood, Voi Donna Camilla Savelli is one of the most precious jewels of the Voi Hotels chain and it has been repeatedly rewarded at the World Travel Awards.  Inside this exceptional frame, "Il Ferro e il Fuoco" Restaurant has recently opened its door to customers seeking quality, culture and beauty. Its interior, inspired by the Renaissance atmospheres of the Hotel, has been designed by the architect Maria Ilaria Billi.
In addition to a la carte dishes, restaurant offers a curious and original experience, the "Renaissance menu". Chef Emidio Gennaro Ferro has put in this tasting route a contemporary spin on the traditional meal of the Renaissance period. Hailing from Salerno, Chef Ferro, from which comes part of the restaurant's name, desires to make customers travel across time by tasting his creations.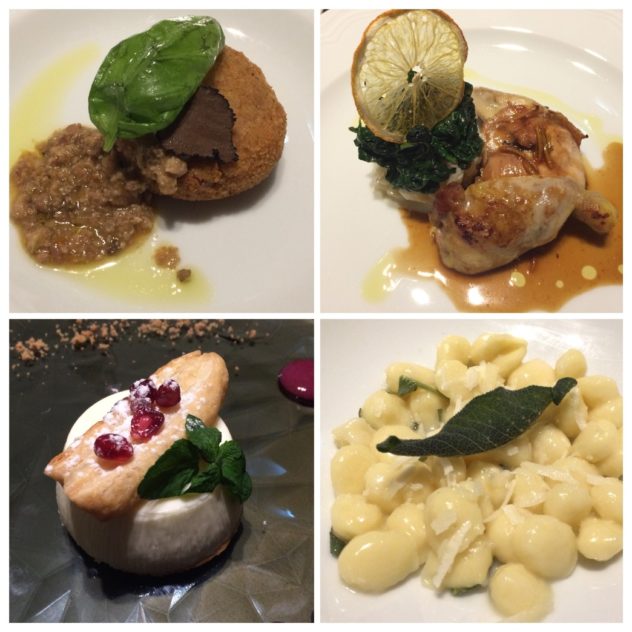 The menu starts with the "Piccolo pasticcio" (in the upper left corner) with white meats ragu and truffle sauce, which was one of the favourite meals of Lorenzo il Maginfico. It is basically a pastry shell that can be stuffed with vegetables, meat or pasta. The Chef's choice was to use chicken and pork meat with pasta. Later, the second dish is "Gnocchi" (on the bottom right corner) with fresh cheese, butter and sage. At the renaissance time, potatoes were not known in Europe and therefore, in order to give consistence to this kind of gnocchi, Chef Ferro uses ricotta cheese and flour. This recipe is taken from a XIV century cookbook.
The main course of this menu is the Cockerel (in the upper right corner), served with oranges, roses' water, spinaches and celeriac. This dish is taken from "De Arte Coquinaria" book, written by Maestro Martino in the renaissance. For the desert Chef Ferro has recreated a "Biancomangiare" (on the bottom left) – literally "white eating" – with sugar and pomegranate. The desert owes the name to the white ingredients by which it is made. Being a symbol of purity, the recipe comes from the Arab Sicily of the XI century which later it spread out across Europe.
Regarding the beverage, wines come from ancient vineyards which were well-known even in the middle age. They were the most appreciated wines during renaissance banquets in Rome: Vernaccia of San Giminiano and Cannaiola di Marta. The Hypoclas of Donna Isabella de' Medici Orsini is the "grand finale". It is an infusion of red wine, cinnamon, pepper and cinchona.
Voi Donna Camilla Savelli

, Via Garibaldi 27 Rome, Tel +3906588861