It is one of the most iconic restaurants in Rome. he majesty of the Colosseum stands all over the terrace which in winter becomes a heated glass veranda. And this would already be enough to make Aroma Restaurant unique. Palazzo Manfredi, five-star luxury hotel of just fourteen rooms that makes it its flagship, stands right on the area that in ancient Rome was used as accommodation and gym for gladiators who performed in the Flavian Amphitheater. The remains of the most important gym, the Ludus Magnus, are at the foot of the hotel. Looking over the Colosseum, one can see the Domus Aurea – the urban villa of Emperor Nerone – and the Roman Forum. The view leaves everyone breathless.
With the view on the Colosseum, is the gourmet cuisine of the Executive Chef Giuseppe Di Iorio, 1 Michelin star, to brighten up the palates.  You can choose from the menu or the "Corinzio" tasting itinerary (mise en bouche by the Chef, six courses and dessert € 180 – € 250 with wines pairing) that varies according to season. Di Iorio starts from the Mediterranean tradition (he has Calabrian origins) and opens with creativity and research to some international influence but ever losing sight of Italian cuisine, a solid base on which rests its culinary declination.
The menu is based on strong contrasts – between game and important meats like donkey and Canadian bison – and, precisely for this reason, surprises for the balance and grace of each course.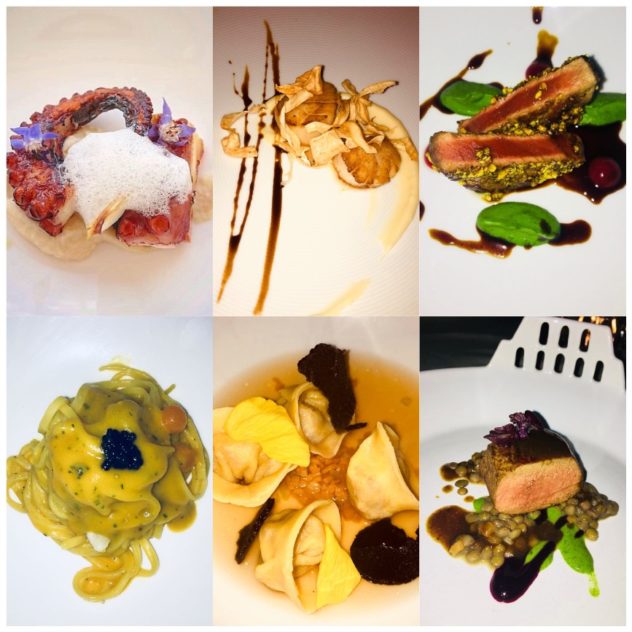 It goes from the "Crispy octopus, celeriac veloutè, roasted white onion and Bagna Cauda foam" (top left corner) to the "Bison with pistacchio and bluebarries sauce" in a greedy " (top right) salts-down" luxuriant: "Seared Roe deer Medallions with mint sauce, Onano's lentils and blueberries " (bottom right); "Tagliolini with pumpkin, Gorgonzola cheese and caviar" (bottom left); "Donkey and mortadella Cappelletti served with consommè" (down in the middle); "Roasted scallops on parsnip purèe, liquorice gel and crispy roots" (high in the middle). To finish, the dessert is entrusted to Pastry Chef Daniele De Santi which offers real hyper-realistic works of art, such as "Truffle": chocolate egg, ricotta, khaki. (picture below).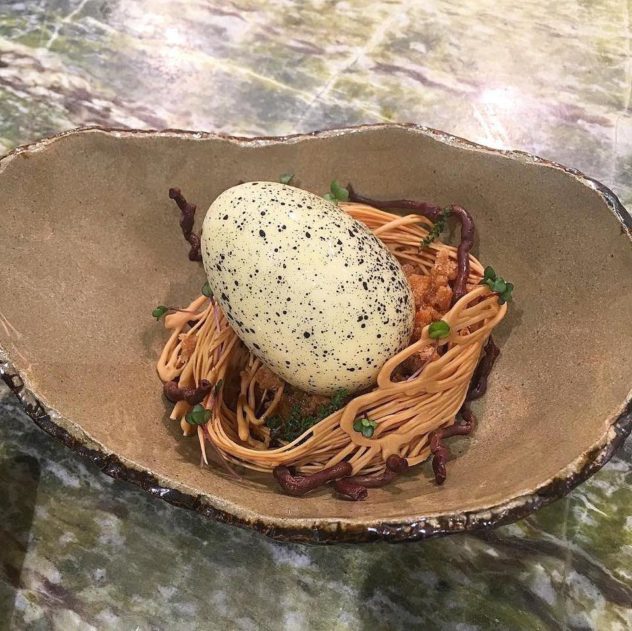 On the other side – which houses the lounge bar – the view is on Colle Oppio, home to one of the villages from which Rome was built. Here is proposed the "bistro" formula, always by Di Iorio but with an average price less demanding of €50 (appetizer, first course and dessert).
Few luxury restaurants can boast a view like that Aroma, Di Iorio's kitchen and the beauty of Palazzo Manfredi make it a Place to be when in Rome.
Aroma Restaurant C/o Palazzo Manfredi, v
ia Labicana, 125, Rome
Tel
+390677591380   
*Aroma a Palazzo Manfredi, un tavolo tra il Colosseo e le stelle
E uno dei ristoranti più iconici di Roma. La maestà del Colosseo fa da tutto campo alla terrazza che nella stagione invernale diventa una veranda a vetrate riscaldata. E già questo basterebbe a rendere Aroma Restaurant unico. Palazzo Manfredi, cinque stelle lusso di appena quattordici camere che ne fa il suo fiore all'occhiello, sorge proprio sull'area che nella Roma antica era adibita agli alloggi e alla palestra dei gladiatori che si esibivano nell'Anfiteatro Flavio. I resti della palestra più importante, il Ludus Magnus, si aprono proprio ai piedi dell'albergo. Lanciando lo sguardo oltre il Colosseo, si possono scorgere la Domus Aurea – la villa urbana dell'imperatore Nerone – e il Foro Romano. Il panorama lascia senza fiato.
Vista Colosseo è la cucina gourmet dell'Executive Chef Giuseppe Di Iorio, 1 Stella Michelin, ad allietare i palati. Si può optare per la carta o il percorso degustazione "Corinzio" (benvenuto dello Chef, sei portate e dolce 180€ – 250€ con abbinamento vini) che variano con la stagione. Di Iorio parte dalla tradizione mediterranea (lui è di origini calabresi) e si apre con creatività e ricerca a qualche influenza internazionale senza però mai perdere di vista la cucina italiana, base solida su cui poggia la sua declinazione culinaria.
Il menù è improntato sui forti contrasti – tra selvaggina e carni importanti come l'asino e il bisonte canadese – e, proprio per questo, sorprende nell'equilibrio e nella grazia di ogni portata. Si passa dal "Polpo croccante su vellutata di sedano rapa, cipolla bianca arrosto e Aria di Bagna Cauda" al "Bisonte con crema di finocchio profumato al sambuco, rapa e castagna" in un goloso sali-scendi lussureggiante: "Medaglioni di capriolo al ginepro scottato con salsa alla menta, lenticchie di Onano e mirtilli"; "Tagliolini alla zucca mantovana con gorgonzola dolce e perle di caviale"; "Cappelletti di asino e mortadella su consommè di bollito magro"; "Capesanta arrostita su crema di pastinaca, gel di liquirizia e radici". Per finire il dessert affidato al Pastry Chef Daniele De Santi che propone vere e proprie opere d'arte iperrealiste, come "L'Uovo, ricotta e cachi".
Dall'altro affaccio – che ospita l'area lunge bar – la vista è su Colle Oppio, sede di uno dei villaggi da cui sorse Roma. Qui viene proposta la formula "bistrot", sempre a cura di Di Iorio ma con un prezzo medio meno impegnativo di 50€ (antipasto, primo e dessert).
Pochi ristoranti di lusso possono vantare una vista come quella di Aroma, la cucina di Di Iorio e la bellezza di Palazzo Manfredi lo rendono un Place to be una volta a Roma.