His name is French but the touch is Italian, especially Roman. Not only extravagance and originality are the translation of "Verve" but also the traits of the new restaurant of "Dom Hotel". The framework is an ancient and aristocratic palace of the XVII century, capable of stirring up typically roman atmospheres while keeping, at the same time, an international and transversal glance. Exactly like the cuisine of Chef Adriano Magnoli that has found there the perfect place to stay.
Lynchpins of every dish are both tradition and raw materials which arrive from small farmers of the Latium territory; However, the main notable difference with other gourmet kitchens that draw inspiration from tradition is Chef Magnoli's way of softening strong flavors. Moreover, his additional touch is the oriental evocation concerning the plating and some ideas: a quirk which is probably following domestic and international trends.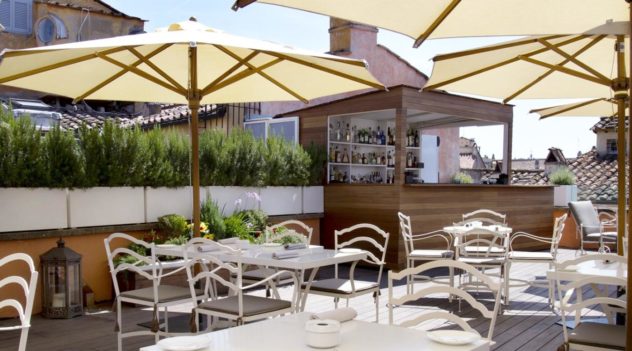 "I have discovered the Oriental cuisine some years ago, thanks to my partner", Chef Magnoli said, "and I accommodate it in some of my creations, fundamentally Italian and Roman, as a tribute of essentiality and simplicity". Antonella Mascolo is both his professional and personal partner, being also the pastry Chef of the Restaurant; Tommaso Bartolini is his sous Chef.
We start with the "Sgombro lardo e vignarola" (Mackerel, lard and an Italian vegetable stew), a typical roman side dish based on artichokes, peas and fava beans. Then, "Fettuccella cacio e pepe, animelle e carciofo" (roman pasta with cheese and pepper, sweetbread and artichoke) with the dough still fresh and delicate despite every imagination; between the main dishes the "Pollo e peperoni" (Chicken and peppers) stands out; it is the Sunday dish of all roman families which Chef Mascolo creates with a totally contemporary technique: the meat is stretched finely to form a little nut in which a purée with a pepper sauce complete the dish. To conclude, remarkable deserts are the "Sanpietrini di Roma" (Sanpietrini are the pavement of the Eternal city) which are little squares of gingerbread with ricotta, honey and sour cherries, and the "Crostatina di frutta" (fruit tart) decomposed, made with short pastry, vanilla cream and fruits.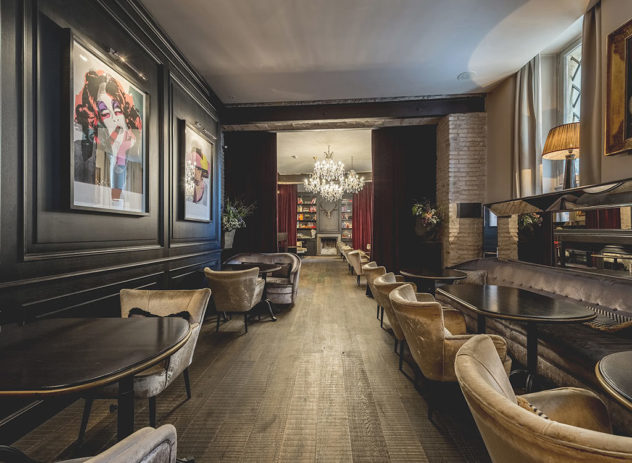 The menu of Verve is full of amusing ideas: between squids and Mozzarella in carrozza (a Neapolitan dish), red mullets in panzanella (a chopped salad of soaked stale bread, onions and tomatoes), pork dumplings and gnudi ( gnocchi-like dumplings made with ricotta cheese and semolina) with octopus. Their fil rouge is the softened roman spirit which is appreciable until deserts.
In the terrace, between the rosemary parfum and Via Giulia's roofs from april to october or between design furnitures and Andy Wharol works in winter, Paolo Carrara is always the man in charge of being the head waiter, also suggesting the best wine pairing. As well as à la carte, it is possible to choose two different gastronomic paths: "Fate vobis", four courses to choose (60€ + 40€ of eventual wine pairing); "Famo Nobis", seven courses chosen by the Chef ( 100€ + 60€ with eventual wine and spirits paring). For those loving breakfast, it is also possible to reserve for it, continental but rigorously homemade (25€).
In one of the most iconic street of the historical center, between Navona square, Farnese square and Trastevere, Verve is the perfect choice for those desiring to catch the hidden city, sheltered from touristic routes and to discover the typical but softened roman cuisine.
Verve Restaurant C/O DOM Hotel, Via Giulia 131, Rome
Tel +390631076828
*Verve Restaurant, la dolce Roma in un antico palazzo
Il nome è francese ma la cucina è italiana con un richiamo evidente alla romanità. Estro e originalità non sono solo la traduzione di "Verve" ma anche le caratteristiche del nuovo ristorante del Dom Hotel.
La cornice è un antico palazzo nobiliare del 1600, capace di evocare atmosfere tipicamente romane mantenendo, al tempo stesso, uno sguardo internazionale e trasversale. Esattamenmte come la cucina dello Chef Adriano Magnoli che qui ha trovato dimora mai più consona.
Punto fermo di ogni piatto sono la tradizione e materie prime che arrivano da piccoli produttori del territorio laziale; la differenza con le altre cucine di tradizione, seppur gourmet, però, è al palato, nell'addolcimento di sapori tipicamente più decisi; il tocco ulteriore è l'evocazione dell'Oriente, nell'impiattamento e in alcune idee, non nella sostanza: vezzo che è anche una strizzata d'occhio alle tendenze.
"Ho scoperto la cucina orientale solo da qualche anno, grazie alla mia compagna", spiega lo Chef, e "la accolgo in alcuni dei miei piatti, pienamente italiani e romani, come omaggio all'essenzialità e alla semplicità". E' Antonella Mascolo ad affiancare Magnoli nella vita e in cucina, come pastry chef, assieme al sous chef Tommaso Transocchi Bartolini.
Si inizia così dallo "Sgombro lardo e vignarola", tipico contorno romano a base di carciofi, piselli e fave, per passare alla "Fettuccella cacio e pepe, animelle e carciofo" fresche di impasto e delicate a dispetto di ogni immaginazione; tra i secondi spicca il "Pollo e peperoni", piatto della domenica e della memoria a Roma, realizzato con una tecnica completamente contemporanea: carne tirata finissima a formare un saccottino che al suo interno cela una purée con salsa di peperone a completare la portata. Per concludere, si arriva al dessert, tra i "San pietrini di Roma" (quadratini di panpepato con ricotta, miele e visciole ) o la "Crostatina di frutta" scomposta (pasta frolla, crema alla vaniglia e frutta).
Un menù quello di Verve, pieno di spunti divertenti –  tra calamari e mozzarella in carrozza, triglie in panzanella, ravioli di maiale, gnudi di ricotta e polpo, nel quale la leggerezza è il fil rouge di una romanità addolcita che si esprime appieno fino al dessert.
In terrazza, tra il profumo del rosmarino e i tetti di via Giulia nella bella stagione, o tra arredi di design e opere di Andy Warhol nei mesi più freddi, in sala a organizzare tutto è Paolo Carrara, pronto anche a suggerire l'abbinamento di vini più consono alle portate prescelte. Oltre alla carta, è possibile optare per due percorsi degustazione: "Fate Vobis", quattro portate a propria scelta (60€ + 40€ con eventuale wine pairing); "Famo Nobis", sette portate a scelta dello Chef (100€ + 60€ con eventuale wine and spirits paring). Per chi ama il breakfast, è possibile anche prenotare la colazione, di formato continentale ma rigorosamente home made (25€ a persona).
In una delle strade più iconiche del centro storico, tra Piazza Navona, Piazza Farnese e Trastevere, Verve è la scelta ideale per chi vuole farsi ammaliare dalla Roma nascosta, più defilata rispetto ai percorsi turistici, e scoprire la sua cucina tipica in chiave più dolce.